3 mars 2009
2
03
/

03
/

mars
/

2009
18:09
Enfant :
"Tu ne devineras jamais ce que j'ai vu en rentrant de l'école ! Ils ont vendu « Les longs Cyprès » !"
La femme semble troublée
Enfant :
"Je te promets que c'est vrai… Il y a un camion et plein de meubles devant. Ça m'a fait bizarre…"
La femme cesse d'étendre le linge et s'avance vers lui

"…c'est la première fois depuis que je suis né que je vois les volets ouverts…"
La femme semble songeuse et détourne le regard
"Qu'est ce que tu as ? C'est à cause de la maison ? Pourquoi personne ne veut jamais en parler ? Il s'est passé quelque chose ? Raconte-moi !"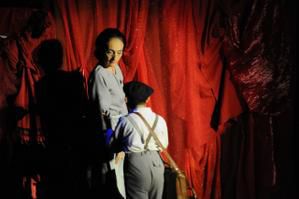 Crédit photo: Séverine Desmarest
Child:
You'll never guess what I saw on the way back from school! They've sold "The Long Cypresses"!
The woman seems distressed
Child:
I swear it's true…There's a moving van and plenty of furniture at the front. Seemed strange…
The woman stops her jam spreading and sits down…The child, with his back to the audience, goes on…
It's the first time since I was born I see the shutters open…
The child turns around and approaches the table…
Child
What's the matter with you? Is it because of the house? Why does no-one ever talk about it? Does something happen? Tell me!